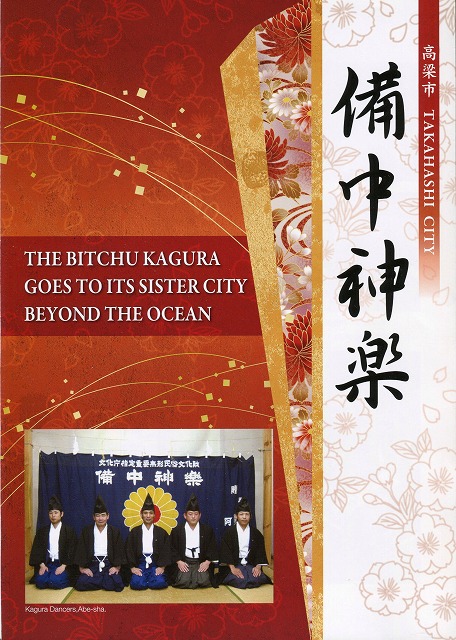 The Bitchu Kagura Dance has been held by the people of Takahashi area for hundreds of years.
備中神楽は、何百年もの間、高梁地域の人々によって受け継がれました。

The origin Can be traced back to an ancient belief that natural disaster, disease and other such misfortunes were brought upon by a god named Kojin.
天災、病気とその他の不幸が、荒神様によって守られた。古代に起源はさかのぼります。

ln order to appease the god, this dance was created, but at the early stage it was quite unsophisticated.
人々は、神を落ち着かせるために神楽を舞いました。しかし、初期では、それはまだ完成されていませんでした。

Around 1770, a priest of shintoism, Mr.Kokkyo Nishibayashi, who was born in Takahashi, re-created the Bitchu Kagura Dance based upon two famous birthmyths of Japan-Kojiki and Nihonshoki.
1770年頃、神道の司祭 西林国橋 ( 成羽で生まれた ) は、古事記、日本書記の2つの有名な歴史に基づく備中神楽を考案しました。

And he gave the dance order and sophistication.
そして、彼は神楽を再編集しました。


Bitchu Kagura was origlnally performed by priests of shintoism, but because of its complexity it was then performed by special dancers called Kagura Dayu.
備中神楽は神道の司祭によって舞われました。しかし、その複雑さのため、それから、それは神楽太夫と呼ばれる人によって舞われました。


There are five acts in the Bitchu Kagura.
備中神楽は 5 つの構成があります。

Of the five these three are the most famous-Open the Gate of the Celestial Rock Cave, Division of Territory, and The Battle Agalnst a Serpent.
5つの構成のうち最も有名な3つの物語は、岩戸開き、国譲り、大蛇退治です。

Now its performance is made mainly ln fall to thank god for happiness and a rich harvest for the year.
現在、神楽は、年神に幸せと豊作に対して感謝する為に舞われます。


Also to pray for happiness and a rich harvest for the coming year.
また、幸せと豊作を祈願するために毎年行われます。


The Bitchu Kagura Dance was registered as an important intangible cultural asset by the national government in 1979.
備中神楽は、1979年に無形民族文化財として登録されました。


The people of Takahashi take pride in this dance and rook forward to its performance every year.
高梁の人々は、毎年、神楽の舞を誇りにします。
DANCE OF SARUDAHIKO-NOIMIKOTO
猿田彦の舞
This dance is done before the act of "Open the Gate of the Celestial Rock Cave.
この舞は、「天からの入口を開けます」の行為の前にされます。
ln the time of the descent to earth of the descendants of the Sun-Goddess, Sarudahiko played the role of a forerunner, driving away evil spirits.
悪魔を追い払っているサン-Goddess(先駆者の役割を聞くSarudahiko)の直系の地球への降下の時ln。

For this reason the dance is performed at the very beginning of Kagura Dance.
この理由で、ダンスは、Kagura Danceを非常に開始することで実行されます。

It is very famous for its dynamic splendor.
これは、ダイナミックな舞で非常に有名です。

Through this dance people pray to this god for the happiness of their families, protection from natural disasters, diseases, traffic accidents and for the prosperity of their children etc.
このダンスを通して、人々は彼らの家族、天災からの保護、病気、交通事故の幸せのために、そして、彼らの子供たちその他の繁栄のためにこの神に祈ります。
DANCE OF OKUNINUSHl-NO-MIKOTO
This dance is in the Division of Territory.
Okuninushi appeares with a smile on his face
and with a maHet ofluck in his hand. There is
something elegant and dignified about this
dance.
At the beglnning he says, 'EI wiH bring
happlneSS and prosperity to people who pray
to me. And l wilH」sethe ma=etto rulethis land
in peace."
ln the dance the god scatters red and white
rice baHs (Japanese cakes made from steamed
rice) to peop一e.
We call these ''seeds of good luck."
Today Okuninushi is dedicated to as the god
of marrlage.
BATTLE AGAINST A SERPANT
The god who battles agalnSt a Serpent is called Susano-n0-
mikoto. He is a brother of the Sun-Goddess.
The story goes like this:There lives an old man and his wife in
a v川age. They had eight daughters. But now only one of
them is alive. Why? Because a glant serpent had attacked
the vHlage every year and ate seven of their daughters, one
daughter a year.
Susano hears about this sad
story and decides to fight
against the serpent. But it
seems too strong for him to
defeat. So he works out a
trick. lt is sake (Japanese
liquor)i He gives the serpent
as much sake as it wants, and
attacks it while it is drunk and
sleeplng.
After a terrible batt一e, he finaHy
wins and saves the maiden.
(Right)Susano-no-mikoto
PDF